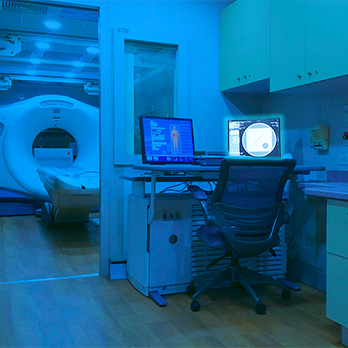 Mobile
CT, MRI & PET/CT

Imaging Solutions

Beacon International offers high quality Mobile Imaging CT, MRI & PET/CT Solutions for long and short-term projects.

Our knowledgeable, professional team has more than 45 years of experience in the field and we are dedicated to guiding you through the entire process. Strategic partnerships we have world-wide can provide all the essential support needed.
We are here to support you in any situation. Leasing a Mobile Imaging System through Beacon International provides a risk-free solution to any situation your facility may have.
Clear up patient backlog
Construction / Room renovation
Downtime during equipment upgrading
Test the financial viability for a future equipment purchase
In place of a large capital expenditure
Our Rental Proposals are customized to meet customer needs.
We are commited to providing a superior experience:
Site Assistance, Pre-Planning, Delivery & Set-Up
On-Site System Applications Training
Equipment Service and Maintenance
Trailer Service Maintenance
Call
+1-916-240-6360
today to talk with one of our specialists!
Mobile GE 1.5 12X Signa Excite HD 8 Channel MR
The refurbished GE Signa Excite 1.5T 12X MRI scanner is an 8-channel system that provides improved image clarity and productivity along with increased productivity. GE Excite technology has a high data throughput capability to handle large data volumes and complex image reconstructions.
Mobile GE VCT 64 CT Scanner with ASiR Low Dose Reduction
The LightSpeed 64 VCT, the world's first volume Computed Tomography (CT) system, is the latest innovation in CT technology and the flagship system in GE's LightSpeed VCT family of CT scanners. "VCT" stands for "Volume Computed Tomography". The GE LightSpeed VCT ushers in the next-generation of CT imaging by offering game-changing clinical applications in neurology, cardiology and trauma.
Our Companies
To support our global presence,
our companies are:
Beacon International, LLC
13331 W Caribbean Lane
Surprise AZ
85379
United States
+1-623-975-2300
info@beaconequip.com
Beacon International Medical Systems, Ltd.
10C Church Lane
Alcester
Worchester B49 5JS
United Kingdom
+44 (0) 1527 892913
info@beaconequip.com
OUR PURPOSE
Provide
high-quality
medical imaging equipment